Kite school Tarifa with accommodation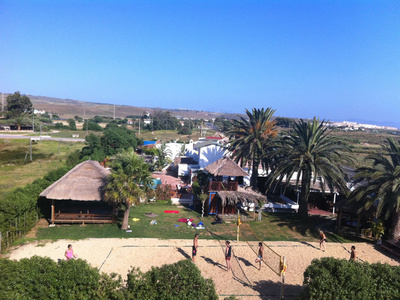 Kite Concept Tarifa is a meeting point for all those interested in kitesurf and water sports, a must stop place in Tarifa for those looking for wind, waves, sun and party. Our kite school has a very convenient location with an easy access straight to the zone reserved for kitesurfing on the beach. At the end of a good kiting session, you can enjoy our snack bar and restaurant with tasteful hamburgers, pizzas made in a wood oven and barbecue with rich meat and fish dishes. After finishing a kite lesson you can also relax and rest by the swimming pool with good music and coctails. During the summer it's possibe to listen to live music.
We invite you to learn kitesurf with us in our kite school in Tarifa. We offer high quality service in all of our kitesurfing lessons and use the equipment and materials of the ongoing year and constantly renew them. All of our kitesurfing instructors have more than 10 years of experience and they are certified by international organizations such as IKO and IOSUP.
The teaching methods follow the IKO (International Kiteboarding Organization) standards. At the end of every course we will give you an IKO certification card, with it you can keep practicing and rent kitesurfing equipment aroung the world.
IN EVERY KITE LESSON WE GUARANTEE ASSISTENCE OF THE INSTRUCTOR IN THE WATER IN THE MOST DELICATE MOMENTS OF THE COURSE.
Kite Concept Tarifa offers an opportunity to personalize and adjust the courses to your needs. In the kite school we organize kitesurfing lessons every day and all year round, from 10am until 8pm. The lessons usually take 3-4 hours, depending on the weather conditions and the course modality chosen: Group, semiprivate or private kite lesson. Due the location next to the beach, our kite school is an ideal place to spend free time and live the experience with water sports like kitesurf, surf and sup.