Kitesurfing lessons advanced in Tarifa - 9 or 12 hours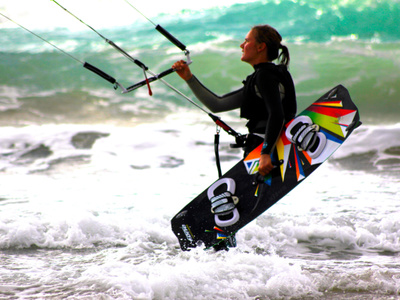 Advanced course, perfecting the water start, riding directions, upwind riding and changing direction.
The advanced kite course puts together everything you've learned so far and you'll acquire an independent level of kitesurfing. After finishing this three day course you are ready to start practicing on your own, you'll have all the knowledge and skills needed for riding safely and good level to train and enjoy kitesurfing. Advanced kitesurfing lessons last for 3 days and are divided into three phases: first phase on the first day, second one on the second day and third on the third day. The course is organized in three lessons of 2, 3 or 4 hours (depending on the modality chosen: group, semiprivate, private).
FIRST STEPS (first day)
Introduction: brief theory of flying the kite, preparing the equipment and using the safety system.
Flying the kite: controlling the kite on the beach, launching and landing, controlling the kite with one hand, preparing for body dragging.
Body Drag in the water: Traction of the kite pulling your body in the water.
SECOND STEPS (second day)
Theoretical part: safety rules, different effects of the wind and self rescue.
In the water with the board: traction of the kite pulling your body, Body Drag, techniques to control the kite while putting on the board.
Water start: techniques to generate elevating power with the kite and getting up with the board.
THIRD STEPS (third day)
Independent water start: practical excercises to improve the movements and coordination on the board and to start riding.
Ride upwind: riding upwind with correct position of the body and being able to return to the starting point.
Transition: changing direction to both sides without having to stop.
*If you already have some knowledge about kitesurf, you can participate on a course that meets your level.
*You can choose the modality you prefer even if you come alone, we will put you into a group with correct level.
IKO kitesurf certification level 1, 2 and 3
Price: 9 hours 180 € / 12 hours 240 €