Kitesurfing lessons beginner in Tarifa - 3 or 4 hours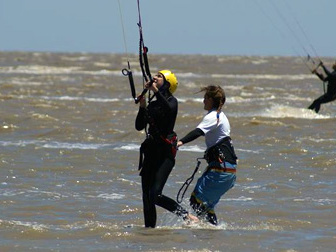 Beginner course, theory of flying the kite, preparation of the equipment, flying the kite safely and with complete control.
The first half an hour of the lesson is dedicated to introduction and theory in our kite school or on the beach, depending on the wind conditions. Practicing takes place on the beach in a spacious zone reserved only for kite schools which is located right in front of our kite school. Depending on how many hours you reserve you might progress to trying controlling the kite in the water (Body Drag) already on the first day with assistence of the instructor.
The beginner course includes the first phase of every course (in the following you'll find the description) and it is organized with one lesson of 2, 3 or 4 hours (depending on the modality chosen: group, semiprivate, private).

FIRST STEPS
Introduction: Brief theory about flying the kite, preparing of the equipment and use of security system.
Flying the kite: controlling it on the beach, launching and landing, controlling the kite with one hand, preparation for first body drag.
Body Drag in the water: Power of the kite pulling your body in the water.
*If you already have some knowledge about kitesurf, you can participate on a course that meets your level.
*You can choose the modality you prefer even if you come alone, we will put you into a group with correct level.
IKO kitesurf certification Level 1
Price: 3 hours 70 € / 4 hours 90€