Kitesurfing lessons in Tarifa - Specialization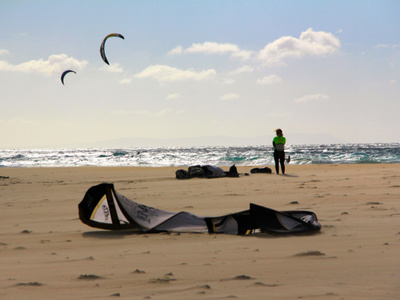 Specialization kite lesson, to improve your riding level, first tricks with kite, advanced tricks and jumps.
Specialization kitesurfing lessons for kitesurfers who already have some knowledge about kitesurf and advanced level but want to keep learning, progressing and improving their skills. Specialization kitesurfing lessons can be booked for as many hours as you need to reach the wanted level. We recommend a minimum of 3 hours with semiprivate kite lesson and a minimum of 2 hours with private lesson. Just tell us what you want to learn and we'll advice and suggest how to progress and do the tricks you want to learn in the fastest and most effective way.
With specialization kitesurfing lessons you can choose between:
- Improve riding skills: improve and correct the position of your body, riding upwind and slowing down
- Change of direction: changing riding direction without stopping, from toe side to heel side and vice versa.
- Hooked jumps: basic jumps, front and back rotations, changing direction with a jump
- Unhooked jumps: basic pop and railey, rotations, all the other new school tricks like handle passes, mobe etc...
- Riding with surfkite board: surf waves with a surfkite board, with straps or strapless, strapless jumps and tricks
IKO kitesurf certification Level 3
Price: with semiprivate lesson 30/35 € per hour - with private lesson 55 € per hour